Secondary Glazing
Secondary Glazing - what does it involve?
Secondary glazing involves installing supplementary glazing on the inside of an existing single-glazed window.
Benefits of Secondary Glazing
Cost-effective solution - can save up to 75% of the price of new window replacement.

Improved heat retention - reduce heat loss by up to 65%

Reduce external noise by up to 80%

Over 200 colours to choose from in a range of designs
Transform your home with Secondary Glazing.
Kick cold, noisy properties into touch with our brand-new bespoke secondary glazing system. Giving your existing windows a helping hand, secondary glazing comprises of the installation of a discreet, slimline aluminium frame onto either the window reveals or the inside face of the primary window, allowing for a seamless improvement in a property's acoustic performance, thermal efficiency and security.
An ideal solution for listed buildings, homes within conservation areas and properties battling external noise, each secondary glazed window is made to marry with the style, function, colour and décor of your primary window units. Now featuring even slimmer sightlines, our brand-new secondary glazing range is the most unobtrusive on today's market.
Types of Secondary Glazing
Horizontal Sliding Unit
The most popular option in our entire range, horizontal sliding units are well suited to a vast array of primary windows including casement, hinged or any window that features vertical bars.
Available in 2, 3, 4 and 5 panel variations, horizontal sliders can be made to suit both large and small expanses. For a smooth sliding action, this product type is fitted with brass rollers as standard. All panels are removeable for easier cleaning access.
Vertical Sliding Unit
Our vertical sliding units come in three different variations - standard, tilt-in and slide past. Ideally suited to sash windows, standard sliders match perfectly with older aesthetics and feature unobtrusive sightlines. The tilt-in variation pivots inwards to allow for supreme cleaning, whilst the slide past version allows both panels to slide freely past one another.
Hinged Unit
Hinged units can be matched with virtually any style of primary window and open into the room like a door. Hinges can be positioned on the right, left, or hung from the top if you so require.
There are two different variations of hinged units - the standard & slimline - with the latter offering the most unobtrusive aesthetics across our entire secondary glazing range. 28mm double glazing is available with our standard hinged unit, ensuring unrivalled thermal and acoustic performance.
Lift Out Unit
A perfect choice for homes where only limited access is required to the primary window. Lift out unites are effectively fixed in place but can be completely removed when required for cleaning and maintenance. Much like our slimline hinged units, lift outs offer incredibly narrow frames, making them almost unnoticeable within any room.
Bespoke Secondary Glazing
We can curve and arch virtually any product type in the suite to match oddly shaped primary windows. All units are produced at a 40,000 sq ft manufacturing plant to the highest possible quality.
---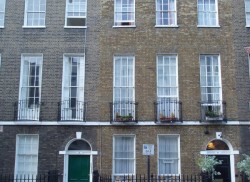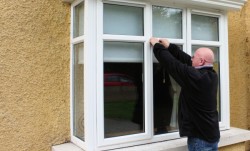 Contact us
for your window upgrades and repairs.
CozyGlaze, Browneshill Road, Carlow, Co. Carlow, Ireland
Email:
info@cozyglaze.com
Phone:

059 9152474 / 087 0909441
Fax:
059 9152474
Nationwide Window Upgrades: Double, Triple and Secondary Glazing, New Sliding Sash Windows, New Windows and Window Repairs throughout Ireland: Dublin, Kildare, Meath, Laois, Carlow, Tipperary, Offaly, Antrim, Armagh, Cavan, Clare, Cork, Derry, Donegal, Down, Fermanagh, Galway, Kerry, Leitrim, Limerick, Longford, Louth, Kilkenny, Mayo, Monaghan, Roscommon, Sligo, Tyrone, Wexford, Waterford, Westmeath and Wicklow